IoT in Logistics Could be the Trip of a Lifetime!
Our Nomadic Device guide is a roadmap with a difference, covering everything that you'll need to know to take a one-way flight into IoT success with your logistics business plan. Download the e-book to learn:
Popular IoT Landing Spots for Logistics: Use cases for how to be successful in IoT, from global cold chain management, and last-mile operations, to inventory tracking and warehousing.
Global IoT Tips and Tricks: How to hit the tarmac successfully with a single vendor for connectivity, multi-layered security and full lifecycle management.
Your Checklist for Events and Response:

We cover your plan of action for poor coverage, spikes in data usage, a missing shipment, or a device in the field that needs maintenance.
Plus... a free Survival Guide glossary with all the IoT terms you need to know to blend in with the locals!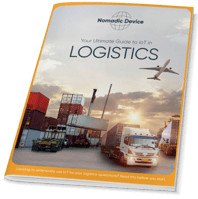 Traveling business-class? We're here to make it simple. Read the full e-book.