Helix Wireless Achieves a Single SKU to Cover the World
Helix Partners with floLIVE for Global IoT Connectivity Solution
IoT devices are often installed remotely, don't have access to WiFi or other connectivity options, and need high availability and performance with zero gaps. To make things even more complex, service providers may not even know where devices will end up at the point of manufacturing.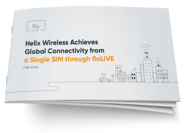 This was exactly the challenge Helix Wireless was facing when looking to install IoT-enabled security cameras as an initial use case for distributed IoT devices.
By partnering with floLIVE, through a single SIM card, Helix achieved:
Global connectivity: One vendor relationship to connect devices anywhere in the world, instead of onboarding a new mobile operator, contract, and process every time they needed to serve a new region.
Integrated APIs: Complete visibility and coverage, including the ability to set smart policy for autonomous switching, OTA updates, quick diagnosis and maintenance, and data privacy and security.
Technical expertise: With deep technical knowledge and expertise, floLIVE has become a true partner to Helix Wireless in their own business growth, supporting the company with strategic and creative problem solving.
Read the full case study to uncover how Helix improved their ability to serve global customers.
Download the Case Study here